In Câmpulung there is a special place where young mothers in foster care, single mothers or who are victims of domestic violence or human trafficking, find moral support and guidance for the future. This place is Caritas Câmpulung Association, an organisation accredited as a social insertion enterprise that helps these mothers to understand their past and move towards a better future.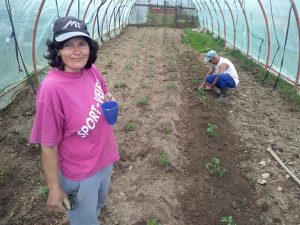 The services offered by Caritas Câmpulung are multiple and diverse, adapting to the needs of each person who asks for their help, from counselling services, professional training and socio-professional integration. To do this, the association creates jobs and helps them develop new skills for future jobs.
At this moment, the people who use the socio-professional integration services of the association work at the restaurant with terrace in Câmpulung, in the tailoring workshop and at their small farm in Schitu Golești where they produce cheese, yoghourt and vegetables for their own consumption.
The employees in the insertion were very open to the idea of ​​this case study because a framework was created to talk freely about the job they are working in now. They feel that they are being listened to and that their opinion matters more.