Public contracts
Definition and principles
Ordinance No. 2015-899 of 23 July 2015 on public procurement – Articles 1 to 3 (preliminary)
Public contracts are administrative contracts concluded for a fee between a public body (State, local authority, etc.) and a private or public supplier or contractor (company, association or group, etc.) to meet its needs for work, supplies or services. Public contracts are subject to 3 main principles:
Equal treatment of candidates
Transparency of procedures
Freedom of access.
Any company, even a newly created one, may bid for a public contract, alone or as a group, provided it :
is up to date with its social security and tax contributions,
is not in judicial liquidation proceedings,
has not been convicted in the last 5 years.
Procedures: vary according to the amount, the buyer and the type of contract
Up to €40,000 excluding tax, public purchasers of all kinds are exempted from publicly published contracts as well as competitive procedures.
For contracts exceeding this amount, the procedure is linked to the type of buyer and the nature of the contract (supplies, services and work):
Below the European minimum standards, it is called a MAPA (adapted procedure contract) : the buyer is free to define the terms and conditions of the contract.
Above the European standards, these are formalised procedures, governed by the Public Order Code. These contracts can take three forms: the call for tenders (open or restricted), the open procedure with negotiation, and the competitive dialogue.
Please note:
MAPAs, which are open to all types of companies, are the contracts most often achieved by VSEs and SMEs.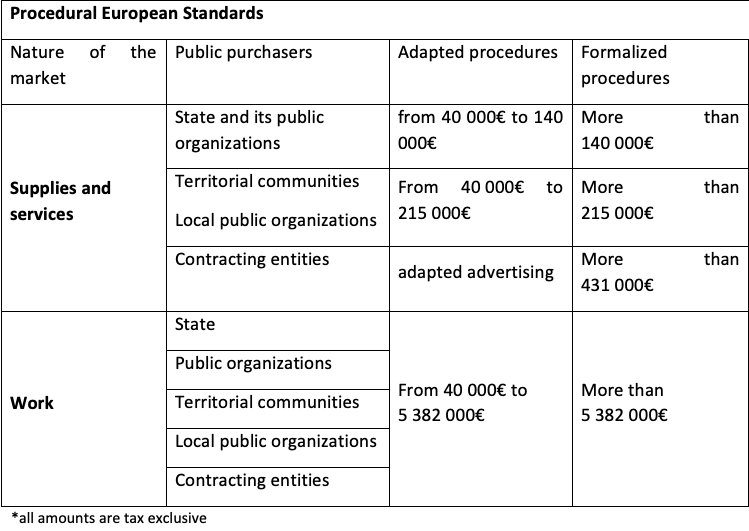 Contracts concluded: closed, split
The public contract may be a closed contract (performed in a definite manner) or a split contract (this is a framework agreement: the public purchaser commits to award contracts or purchase orders to the holder(s) of the agreement, during a given period and for specific services).
Note:
Until December 2021, purchasers could award negotiated contracts without pre-advertised or competitive tendering for their innovative purchases of less than 100 000€ excluding VAT.
Section 3 of the Public Procurement Code promotes, by means of employment and work, the integration of disabled or disadvantaged people within society, by allowing Purchasers to reserve the right to participate in public market procedures or certain lots to protected workshops and economic operators which, in view of the social purpose they pursue, intervene in the market with a competitive disadvantage, i.e. companies in the social and solidarity economy, which includes integration through economic activity organizations.
The Public Order Code sets out the possibility of reserving certain public contracts or only certain lots for organizations employing disabled persons or employing disadvantaged persons.
Article L2113-12: Contracts or parts of a contract may be reserved for adapted companies mentioned in Article L. 5213-13 of the Labour Code, organizations and services for assistance through work mentioned in Article L. 344-2 of the Social Action and Family Code, as well as equivalent organizations, when they employ a minimum percentage, set by regulation, of disabled workers who, due to the nature or severity of their deficiencies, are unable to carry out a professional activity under normal conditions.
Article L2113-13: Contracts or batches of a contract may be reserved for integration through economic activity organizations mentioned in Article L. 5132-4 of the Labour Code and equivalent organizations, when they employ a minimum percentage, set by regulation, of disadvantaged workers.
Article R2113-7: When the purchaser reserves a contract or parts of a contract for economic operators who employ disabled or disadvantaged workers, the invitation to tender or, in the absence of such notice, the consultation documents shall refer to Article L. 2113-12 or Article L. 2113-13.
The minimum percentage referred to in these articles is set at 50%.
Reserved markets are public contracts with specific clauses linked to organizations employing certain categories of people. They are reserved for structures of:
Protected and Adapted Work Sector (STPA) – article L.2113-12
Integration through economic activity (IAE) – article L.2113-13
Social and Solidarity Economy (SSE) – L.2113-15
Apart from this condition of accessibility, the other characteristics of the contract (execution clauses, award criteria, etc.) are identical to those of a non-reserved market.
The details of a reserved market must appear in the public call for tenders and in the consultation regulations.
Social clauses
Public Procurement Code: Social clauses – Conditions of execution (L 2111-1 to L 2112-4)
The clause introducing the integration action aims at developing the consideration of the social aspects of public procurement. It precisely defines the eligible public for the integration action, the terms of implementation of the clause, the possible use of aggregated integration hours, the intervention of a facilitator, and the penalties for non-compliance with the social integration clause.
Definition
The "social clause" (or "integration clause") is the means by which a client can promote, through public procurement, access to employment for those who are furthest from it. ("priority target groups").
The social clause is the obligation for a company awarded a contract to carry out an integration process. The idea is to promote the employment of a person experiencing social and professional difficulties by mobilizing purchases of all kinds (works, cleaning, etc.)
People recruited and accompanied within a recognised organization by the State:
people working in the adapted or protected sector: employees of adapted companies, adapted temporary work companies;
persons taken in charge in the integration through economic activity organizations (IAE) mentioned in Article L. 5132-4 of the Labour Code, i.e. :
provisions by an intermediary association (AI) or a temporary work integration company (ETTI),
employees of an integration enterprise (EI) or an integration workshop(ACI);
persons employed by an approved neighbourhood or community ;
people in special schemes, in particular the Public Establishments for Integration of Defence (EPIDE) and the Second chance schools (E2C);
people in integration pathways within employers' groups for integration and qualification (GEIQ);
persons under house arrest employed on a regular basis, as part of the prison employment service of the agency for community service and professional integration (ATIGIP) or assigned to a job with a prison administrative organization.
People who meet the criteria of being far from the labour market :
long-term jobseekers (registered as more than 12 months of unemployment) without any activity or in partial activity (less than 6 months in the last 12 months);
RSA beneficiaries looking for work; people who have obtained recognition as disabled workers as per the Article L. 5212-13 of the Labour Code and who are oriented towards the traditional labour market and jobseekers on the list of beneficiaries for employment obligations;
beneficiaries of the specific solidarity allowance (ASS), the disabled adult allowance (AAH), the integration allowance (AI), the widow's allowance or the disability allowance;
young people under 26 years of age who are looking for work:

without qualifications (below level 3) and who have been out of the school system for at least 6 months;

graduates, with proof of a period of inactivity of 6 months since leaving the school system or higher education;

Senior jobseekers (over 50 years old);
young people undergoing reinforced monitoring
inhabitants of priority neighbourhoods of the city policy who are far from employment;
people with refugee status or beneficiaries of subsidiary protection;
people experiencing particular difficulties on the basis of a motivated proposal from Pôle emploi, employment centres, local plans for integration and employment (PLIE), local missions, Cap emploi or departmental centres for the disabled (MDPH).
The eligibility of the public must be established prior to the implementation of the scheme and the completion of the hours of integration.
Direct hiring on a common law contract,
The provision of personnel by an SIAE,
Co-contracting or subcontracting an integration organization
For the ORDERING FINANCIAL INSTITUTION (buyer) :
To be part of a "socially responsible purchasing" approach by promoting employment.
For COMPANIES (recipient company) :
Meet their recruitment needs, find skills and train their employees, using the various mechanisms available to them.
For the PUBLIC :
To enable them to acquire know-how and facilitate access to employment, in conjunction with employment and integration partners.