UtilDeco Group SRL is a protected unit and one of the largest social insertion enterprises in Romania, founded by the "Close to You" Foundation Romania (Alaturi de Voi – ADV), in 2008, as an employment solution for young people with disabilities, of those who come from child protection system or from families with problems.
UtilDeco is the only social enterprise and protected unit in Romania recognized by the European Commission as a model of good practices in the field of employment integration of people with disabilities and in 2016 its activity was recognized with the "EY Social Entrepreneur of the Year" award!
UtilDeco beneficiaries are young people with disabilities, young people from the child protection system, young people from vulnerable groups (including NEETs) or other people with disabilities or from vulnerable groups. On the principle of one-stop-shop, a disadvantaged person or from the placement center, can access a package of services for a combination of problems: social, psychological, educational, career guidance, qualification, employment and workplace assistance.
UtilDeco has shown that social inclusion enterprises can create solutions in difficult times. Since its inception in 2008, in the midst of the economic crisis, it has created more than 150 jobs, of which more than half are for people with disabilities and other vulnerable categories, and has trained hundreds of young people in sheltered workshops.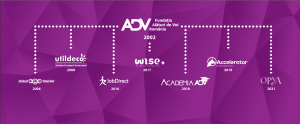 The UtilDeco insertion program is represented by an integrated package of social and employment services, such as:
counseling and career guidance;

work capacity testing, with the CASPER battery (complex tool for assessing people with disabilities, which allows shaping an "occupational profile" and identifying the most suitable job);

job coaching – assistance from specialists both for people with disabilities or from other vulnerable groups employed within the protected unit, as well as for the coordinators of the departments in which the people were employed.

support in terms of socio-professional integration, through on-the-job training and participation in specialization courses (internal or external) or personal development.
The team responsible for the insertion consists of: a psychologist, a social worker, two coordinators and four team leaders.
UtilDeco customers are companies with over 50 employees and public authorities in Romania, which can purchase products and services made through the own activity of people with disabilities employed in the authorized protected unit UtilDeco and thus benefit from cost settlement up to 50% of the amount of disability tax they pay monthly.
UtilDeco offers the following types of products and services:
Textile work equipment

Digital printing (advertising materials, typescripts, volumetric letters, catalogs, brochures, calendars);

Physical, electronic archiving and document storage;

Freshly roasted coffee beans in the Opya bakery – the latest product available in UtilDeco's portfolio, starting in November 2021.
UtilDeco's main challenges in 2021 are to increase market competitiveness through digitization, technology and human resource development in line with market trends and to cover the additional costs arising from the reduced work capacity of people in vulnerable groups.
Contact information Util Deco GROUP S.R.L.