CONCORDIA Humanitarian Organization is an independent, non-governmental and non-profit organization, active at international level, whose mission is to support families in difficulty and the social (re)integration (family, school, professional) of children, young people and adults, towards an autonomous and responsible life. If at the beginning the organization provided services in placement and shelter for street children, the organization later developed projects of independent living, vocational education and professional counseling, culminating in the establishment of social enterprises designed to directly support the integration into the labor market of young beneficiaries
In CONCORDIA, at national and international level, social affairs are seen as a strategic and effective direction in fulfilling the organization's mission to help young people in need become autonomous and independent. Thus, through the social business structures, the organization aims both to increase employment opportunities for vulnerable young people by ensuring their access to other social support services, training and independent living skills, and to ensure a minimum of 50% of the costs of these enterprises from their operating profit. In addition, through these initiatives, CONCORDIA aims to engage in lobbying and advocacy activities to strengthen the social entrepreneurship sector in Romania.
The Bread & Breakfast Hostel is one of the social enterprises established by CONCORDIA and is one of the strategic pillars for the development of the social economy within the organization. It is a project through which the organization aims to contribute to increasing the employment opportunities of young people from vulnerable social groups and to ensure the sustainability of social intervention.
The Bread & Breakfast Hostel is located on Petru Cercel Street no. 1 in Bucharest, in a heritage area delimited behind the Metropolitan Hill and Carol Park, in a symbolic location for CONCORDIA, being the first service headquarters of the CONCORDIA Humanitarian Organization in Romania. The hostel offers accommodation services, where 11 places are available in 6 rooms.
The staff of the Bread & Breakfast Hostel includes, in addition to the specialized staff (2 people), 3 young people from disadvantaged backgrounds or with a precarious economic situation, beneficiaries of the CONCORDIA Humanitarian Organization, who are employed. In addition, every year, another 10 such young people participate in internship programs within the company.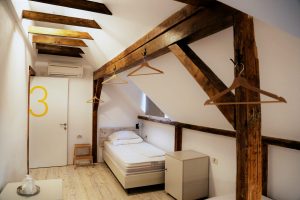 In the process of insertion within the Hostel, from the position of employees, young people are helped to understand and develop skills for maintaining a job in the field of hospitality or in another field. Also, part of the insertion process involves encouraging and supporting them to continue their studies.
The young people are guided in all the activities they have to carry out and related to the job description through a multidisciplinary team that includes various specialists, such as: director, manager, social worker, job coach, nurse, psychologist.
The main challenges of the Bread & Breakfast Hostel in 2021 are the formation of the team, the increase of the occupancy rate, the adjustment of the prices according to the demand, the maintenance of the quality standards and the attempt to satisfy each client.
Contact details CONCORDIA Humanitarian Organization – Hostel Bread & Breakfast